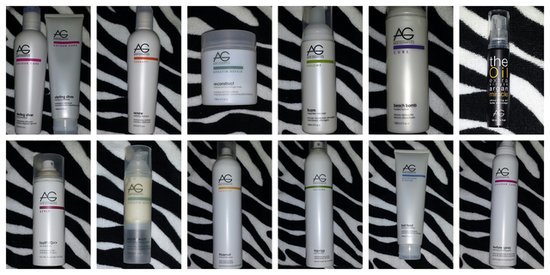 Over the last year or so, I've been on a whirlwind adventure with hair products. Up until I started working in a salon, I often looked at my hair as a nuisance that must be tamed into a ponytail and washed every 18-24 hours to avoid looking like a wet rat. Every stylist who has ever done my hair has told me how lucky I was to have so much thick hair. A dubious honor, to be sure. It was just more to dry, and more to tuck into my elastic. In the last couple years, all that has changed dramatically. Now, my hair is my pride and joy, and my favorite attribute. 

Me, all AG'd up at home with Bigwigg, Repair Serum and Frizzproof
I have purchased over a hundred hair products from a couple dozen brands in the last two years, and was given many more as employee samples from the beauty supply I worked at for a few months over the summer. Of all the brands and products I have used, none have impressed me more than AG Hair Cosmetics. It seems like every product of theirs that I try is the best I've ever tried from each category. I learned a lot about AG from my co-workers at the salon, and from my boss and co-workers at the beauty supply. I was even lucky enough to be able to grill an AG rep about several products in the line. Every new thing I learned about this company and their products impressed me more and more. Gluten-free, cruelty-free, salt and paraben-free and without paba or DEA, these products are more healthy for your hair than a lot of products out there. Add to that the fact that through Women Leading Change, the company helps to build schools in Africa, and this is already a no-brainer "buy this product" situation. But how do the products perform? I already said I was impressed by everything I've tried, which is over a dozen products at this point, but let me tell you about some of my favorites. 
Bigwigg Root Volumizer ($20) is the very first AG product I ever tried. Even when the salon I worked at started converting all their products from a mishmash of brands to one single brands, the owner said, "I have to keep Bigwigg or else I'll have a riot on my hands." Not an exaggeration, either. Shake this product well and spray it directly on to your roots and massage it in. Even after a rough blow dry, I notice serious volume. Since my hair is so oily, I am always wary of putting any product directly on my roots, as it usually makes it even oilier and weighs it down, but Bigwigg has some sort of ingredient in it that seems to absorb oil, and I actually get more time between washes when I use it, even by itself. Bigwigg is honestly impressive. It gives results so dramatic that my husband even notices when I use it. 
fastFWD>> Dry Shampoo ($22) is the best dry shampoo I've ever used. Dry shampoo is my one mainstay product and I have tried about 13 over the years. My second favorite is Bed Head Rockaholic Dirty Secret, but I find I can't use it more than once between shampoos. fastFWD has a light, lovely orange scent and doesn't make my hair look or feel chalky. I can also use it two days in a row and my hair doesn't feel funky and it looks as good the second time I use it as the first. The only rub is that it's a fairly small can and it's pricier than just about any of the other dry shampoos I've tried, but in this case it's worth it to me. The rice powder in it is so effective and I use much less than with every other brand as well. 
Foam Weightless Volumizer ($20) is a great volumizing product, and as it's best used for fine to medium textured hair, I usually like to use this on my daughter. She has a lot of hair, but it's of a medium-texture, and a little Foam applied to damp hair and then blow dried, this makes her look like Barbarella. It's so easy to use, and really effective. 
Fast Food Leave-in Conditioner ($20) This is a wonderful first product for an AG virgin. It's a really simple leave-in that makes an immediate difference. It makes it a breeze to brush my post-shower hair with my Wet Brush, and whether I'm air drying or blow drying, the difference in the softness in my hair is so dramatic. It doesn't weigh my hair down at all and doesn't leave a built-up, tacky feeling. 
Frizzproof Argan Anti-humidity Spray - ($24) This may be the most impressive AG product I've used. It is literally the only anti-frizz product I've ever used that actually does what it's supposed to. I've used creams, serums, sprays... you name it, but this shocked me. I spray it on after I'm finished styling and no matter how much humidity is in the air, my hair never frizzes up. It's insane. This is currently my favorite AG product! 
The Oil Extra Virgin Argan Miracle Smoothing Oil - ($8-$18) There are lots of Argan oils and serums out there, and I've tried several from brands like Wella, Moroccan Oil and Matrix, and AG's The Oil is as good as any of them. The reason I prefer this one is that it's clear, so it doesn't disturb your color, especially if it's light. Another reason is, that even though Argan oil is supposed to smooth the hair, I don't like how so many actually end up making my hair feel dry. The Oil doesn't at all. 
Beach Bomb Tousled Texture ($22) I love Beach Bomb for Spring and Summer days when I want to let my naturally wavy hair air dry. Just a little bit helps to define the waves and control frizz. I usually hit my hair with a little Frizzproof after my hair has fully dried. The two products really work well together. The curl enhancement is the thing that really sets this apart from other similar hair cremes for me. 
Texture Spray Defining and Finishing Spray - ($24) I love to use this to give my freshly washed and dried hair a little definition. That's what it's meant for, after all. But one of my other uses for it is as a second-day partner-in-crime with fastFWD>> Dry Shampoo. I hit the roots with the dry shampoo and the ends with Texture Spray and it almost looks like first day hair. It also has sunflower seed extract which helps to protect your precious color!
Sterling Silver Toning Shampoo and Conditioner - ($16 each) This shampoo and conditioner are wonderful for those with blonde or silver hair. They are extremely purple and really help to remove the brassiness from the hair. I use them once a week and see visible results. The reason this one stands out, is that it's by AG and their shampoos and conditioners do just what they say they will. I feel like my hair is cleaner with their shampoos than with other brands and their conditioners really make a massive and immediate difference in my hair's smoothness and texture. The formulas are so nicely balanced, they just make hair feel like it's best self. 
Renew Clarifying Shampoo - ($16) This is my favorite clarifying shampoo! I've used so many by brands like Paul Mitchell, Matrix, and Malibu, but like all the AG shampoos I've tried, this one just does it better. The smell is some sort of fruity smell I can't place, but it really lathers up well, and removes all traces of buildup and really just leaves my hair feeling so clean and light and bouncy without making it feel squeaky, dry or stripped. 
Reconstruct Intense Anti-Breakage Mask - ($30) Reconstruct contains keratin and shea butter among other things, and is a great weekly treatment for anyone who colors their hair and/or heat styles on a regular basis. You notice an immediate difference in the softness and luster of my hair. It's an amazing treat for the hair,  and for the senses as it smells exactly like cream cheese icing. 
AG Repair Serum Keratin Anti-Breakage Serum - ($24) Repair Serum is a wonderful keratin-filled leave-in serum that makes my hair so glossy and strong. I try not to use it too much because a wise hair stylist told me that there's definitely such a thing as too much keratin, and it can make your hair brittle. However, I use this about three times a week on damp hair and it makes my hair feel so soft and wonderful. I have used it when both air-drying and blow-drying and it works so well no matter which I choose. Like Reconstruct, the Keratin Repair product above, it smells like cream cheese icing. I feel like that's a nice bonus. 
Overall, as I said, I'm a complete AG convert. I recently purchased a couple new products and so far I love them, and I look forward to reviewing those also. The philosophy behind this Canadian company is so wonderful, and their commitment to great products, not flashy packaging and marketing, really appeals to me. Their packaging is so simple and clean and the color-coding makes it so easy to find products within the different lines. They really just seem to be dedicated to making simple and effective hair products that do exactly what they say. I may just be a manicurist with an obsession with her hair, but I know quite a few hair stylists who are as obsessed as I am. 
Have you ever tried AG Hair Cosmetics? What are your favorite products or which are you most interested in trying?