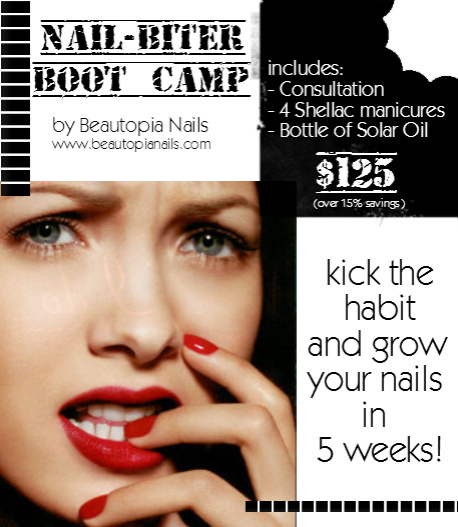 Every manicure client expects their nails to look flawless when they leave the salon. An expertly applied coat of polish is one of the easiest ways to lift your spirits, but a lot of women shy away from the salon, or even from applying polish themselves because they think their nails are damaged beyond repair. You would probably be surprised how many women try to hide their hands from me once they find out I'm a manicurist. They look at my nails and say things like, "I couldn't get my nails to grow like that." Funnily enough, I was once a nail biter, then a habitual acrylic wearer. I don't have naturally perfect nails. I just take care of them. But the cycle of damage and self-sabotage has to end at some point if you want to grow out your nails.
There are myriad reasons nails won't grow long. For some, it's naturally weak, peeling nails. For others it's years of acrylics that have left their nails and nail beds ravaged. Still more sheepishly admit they are habitual nail biters. To these people I invariably say the same thing: "You should really try Shellac."
It gives the nail physical strength and holds everything together in a way. This allows the nail to start growing out. So CND Shellac, along with a regimen of 2x daily Solar Oil use and regular professional manicures can rehab the gnarliest nails. Hence, Nail-Biter Boot Camp, the new promo that I'm running for the Holidays. It makes a great gift for the biter in your life or you can buy the approximately 5-week service for yourself for a New Years' Resolution. 
So, while this isn't by any means an original idea, it's one that has worked for other manicurists and their clients when it comes to really getting your natural nails growing and into shape. 
The 5-week "camp" includes:
Consultation
4 CND Shellac manicures (approximately: Day 1, Day 8, Day 18, Day 32, appts can vary by availability)
Bottle of Solar Oil (for your "homework")
Book before the end of November and receive 40% off any retail purchase in the shop, perhaps a really great hand cream. 
You can book online at the link near the top right of this page, or on my Facebook page. If you have any questions, feel free to contact me via email (beautopianails@gmail.com), Facebook, or call or text me at 304-435-5115.