By
</p>
Here's another batch of CND Shellac manicures I've done over the past few weeks at the salon. Click to see them all and read about what products I used ...
By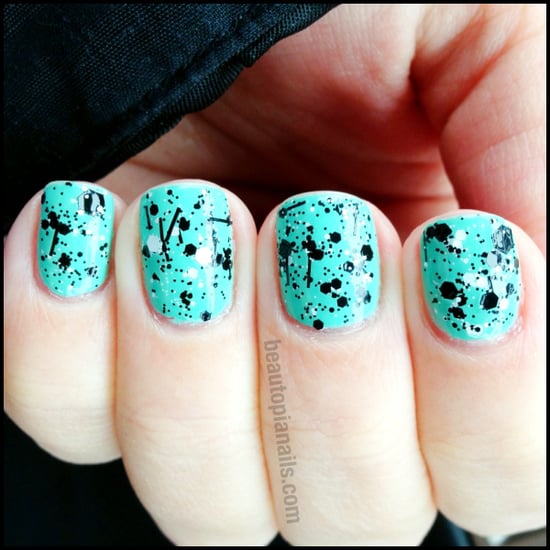 I recently picked up the new Sephora X Chaotic. This is two thin coats over RGB Minty, and I'm pretty happy with it. It covers well in one coat but two is my favorite. Every time my nails caught my eye, they reminded me of a Jackson Pollock painting. Very cool polish, and I recommend it!
By
Recently, in addition to the six new Shellac Fall shades that are being released, CND has also released a duo of limited edition Holiday glitter Shellac shades; Ruby Ritz and Tinsel Toast. Above you see two cured coats of Tinsel Toast, and then again Tinsel Toast covered with a design in Black Pool. The two shades are both gorgeous and contain extremely fine glitter that couldn't be recreated even with the finest of craft glitters, so I feel like it's worth having. Plus it's a lot easier to deal with that applying loose glitter because there are less steps. You also don't have to worry that you missed coating an area with topcoat and risk removing it along with the tacky layer. I also think it looks awesome with other shades of Shellac. 
By
The Zoya entry into the Winter 2012 arena is basically amazing. I'm pretty much limiting myself to purchasing only polishes that cannot be passed up, since I've been using Shellac so much and all my clients are pretty much doing Shellac at this point. I need to purge at least 50% of my enormous stash as it is, so I really don't need non-essential polishes at this point. Ornate, or at least most of it, qualifies as essential for me. I offer several season-specific shades of China Glaze, OPI and Zoya at the salon, and by far the most used is Zoya which honestly surprised me. I love Zoya and everything, but I assumed people would go for the more recognizable brands, and since Zoya is for the most part only available online and in some salons it's pretty crazy. 
Anyway, I passed up all but one of the new OPI Skyfall polishes, and considering I'm a huge 007 fan, OPI Holiday collection fan, and Adele fan (I may go back and get Skyfall since she sings the theme song), that's a huge deal. I also don't feel as psyched about the promos I've seen for China Glaze's holiday offering, so Zoya was the only must-buy holiday collection for me. Weird. 
Tagged with:
holo
,
foil
,
zoya
,
glitter
,
purple
,
winter
,
holiday
,
red
,
gold
,
silver
,
black
,
nails
,
nail polish
,
green
By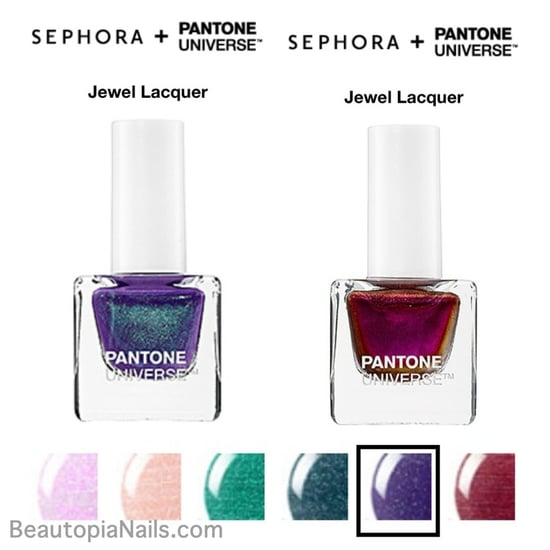 Don't these look amazing? I spotted these on the Sephora site here: (http://m.sephora.com/sephora-pantone-univese-alchemy-of-color-jewel-lacquer-P375646) and was so excited. They weren't out yet at my Sephora, the manager said they were getting them on Monday, so they're extremely new. They appear to be a mix of metallics, duochromes, and some speckled iridescent glitter/shimmer, so I'm very excited to see how these look. There also appear to be some lipsticks and a gloss that are similar, and look like duochromes and seem to have some iridescent glitter also. Very intriguing. I don't remember the collection name but it had the word "Alchemy" in it so it's got to be good. Are you interested in trying these? Do you think these will be new and unique or just rehashed from other brands? How do you feel about the possibility of duochrome glitter lip products? I'm curious what you guys think of these.
By
Nails Inc. Special Effects Sprinkles in Pudding Lane - $9.50 at sephora.com
The Sprinkles range of polishes is a relatively new one in the Nails Inc Special Effects line and they're beautiful! They consist of semi-transparent bases with a range of glitter polishes. With the rise in popularity of glitter polishes, especially those like Revlon Whimsical/Lippmann Glitter in the Air that show the glitter through the different layers of polish that give it more depth. In these cases the glitter isn't about sparkle; it's about texture, depth, and color. 
In Pudding Lane the semi-sheer medium blue-leaning aqua is filled with gold and purple (maybe it's blurple) glitter. It's surprisingly pigmented, so two coats is all you need for full-coverage, but I did use three for a little more glitter, hence the more densely speckled look you see here. This dried slightly gritty, but not nearly as bad as I expected and a coat or so of topcoat should fix things. I only used one and it's not glassy, but it's not gritty at all. I am already eyeing up the other three polishes, but can't find a great reason to justify it considering I've had two Zoya orders, a Sephora order (for this and the LORAC Pro palette which is AMAZING, btw!) plus my Julep stuff this month. I really need to get around to that blog sale...
What do you think of this polish? are you interested in any other other polishes available in this range? Let me know!
By
You may have heard of Julep Nail Vernis at some point recently, be it on the Sephora site or one of their stores where the polishes are $14 a pop (for a .27oz bottle, whoa). Or you may have seen the name on Twitter, or Facebook, or Pinterest, jeez man that name is everywhere. I watched the Julep Mania for a few months with a jaded eye until I finally gave in. If you haven't heard the name Julep, well, it started with a salon in Seattle, then grew to include a nail polish line, and now there is a monthly subscription box where you can have a selection of these polishes delivered to your door at a much lower price than their retail stickers. 
If you'd like to join, here's a referral link if you click it, thanks in advance, that's awfully nice of you:)  (if you refer people, it counts toward getting a free month, pretty nice) Don't forget to enter your code COLOR2012 to get the intro box for a penny. There are other codes to only pay $5 and $10 but I used the penny one and it worked just fine.
You can get the gist of what's going on here on their site, or on their freakishly busy Facebook page, but here's basically what happens:
Take a quiz about your favorite things and Julep will magick up your perfect style profile (you don't have to buy the one they choose for you)
You pay $19.99 (or a penny if you use the code COLOR 2012, duh which one would you rather pay?) and they send you your intro box. This box at this point comes with your two colors and a fairly amazing pedi creme, or three polishes and no creme if you choose the It Girl style profile).
If you like it, every month afterward you will have a four day period, between the 20th and 24th of each month to decide if you want to skip that month's box, or if you'd like to choose another style profile.
If you continue past the intro box, you get billed your $19.99 for your first monthly on the 27th of the month, which is the day the box is sent out. 
</p>
Here are some interesting things to add:
Each month has a new theme, and there are several new polishes added to the line each month, so there's nearly always something new.
Recently they have been doing a thing where you can add on two (sometimes more) items to your box for $4.99 each (which is way cheaper than you pay at Sephora). 
You get a 20% discount on anything that's not "new" that month in the Maven Boutique. (In my opinion the price on these items is still pretty steep, though I did purchase Taylor at retail price so who's stupid now, lol).
Each month in addition to polish there is another product. Last month it was a lip gloss (which I really liked) and this month it is a tote bag and a polish remover in a pump.
They always send little extras which range from files, cuticle oil, creams, to free polish vouchers, to candy, so it's sort of fun to open each month. 
Each month tons of "Golden Boxes" get sent out randomly to subscribers and they include the polishes from every style profile box that month which is actually a pretty rad idea. 
The customer service is very fast, very nice and very effective. 
</p>
Tagged with:
Julep Maven
,
subscription service
,
Julep
,
peach
,
swatches
,
glitter
,
white
,
nails
,
blue
,
nail polish
,
green
By
I finally got it! Don't ask my why it took me so long, because Wallis has been on my wishlist since the very second it came out, but I bought the flipping polish and I am not disappointed. I won't wax poetic about Wallis, you've heard the praise being sung before, but DAMN! It's is gorgeous. Sephora is finally carrying Butter London and so I really didn't have any reason to delay anymore. This is two coats, and the color is a bright golden olive and the finish is just to-die-for. It's unbelievable. It's like a foil/glass fleck/flat microglitter or something. And it almost appears speckled. Also it basically glows in the sun. Wow. 
By
In the "Reaping" scene in the new Hunger Games movie, Effie Trinket wears a pretty and interesting nail look while she's drawing out the tributes' names. It's a sort of dark rose with a gold metallic sponged halfway down. It's such a simple and cute look to try to replicate, but I decided I wanted something slightly more blingy, so I did a different variation using a couple China Glaze polishes.
Products used:
China Glaze Traffic Jam, Blonde Bombshell
Seche Vite topcoat
By
Essie Shine of the Times - $8 most drugstores
I have seen Essie Shine of the Times in just about every drugstore and big box store I've visited in the last month or so, so I know it's relatively easy to find at this point. I had been seeing it everywhere on the internet and decided I didn't need it because I have Sally Hansen Hidden Treasure, a bunch of Nfu-Ohs, the Finger Paints flakies, and more random flakies and honestly don't use them often, but SotT really impossible to resist in the end because when I finally gave up and just picked the polish up in my hands to examine it, I realized it was different than all the others I mentioned above. The shards of mylar are more finely milled, which does a couple things; 1) there is more variation in color because since these are light reactive to a point, the larger the shard, the less color in the area the shard takes up (therefore the smaller the shard, the more shards per area equaling more color!), 2) the surface appears, and is to a certain extent textured rather than just a bit of interesting color being randomly scattered over the surface making the finish look irregular and sort of gross. So overall, SotT is better than a lot of flakies. SH Hidden Treasure had, to this point, been my favorite overall in the mylar glitter category as it had somewhat small particles and was very dense on application. SotT is the new point to which the bar has been raised, y'all. woot! The only weird thing is that there are some random plummy purple colored specks in the polish. You'll see what I mean below.
I love mylar over dark colors, but because this is so dense and makes such a neat textured looking surface, I decided to use a light, delicate color under it for once; China Glaze White on White.