By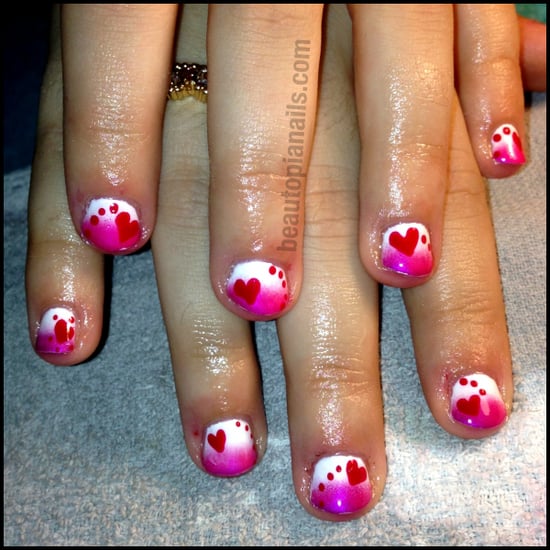 Kelsey got some V-Day Shellac yesterday, using Cream Puff, Wildfire, and pink Additives pure pigment powder.
By
</p>
Sorry for the lack of posting recently! I have been crazy busy, like most of you, because of the holidays and work, and so many other things and time just gets away from me. I do try to regularly post something on my new(ish) Instagram, so be sure to follow that. Maybe even check out my Facebook page because all my Instagram, Twitter and Tumblr posts also go there. Anyway, I haven't gotten the chance to do some good old fashioned nail art with regular polish recently because I'm wearing a lot of Shellac, but I do still try to fancy up the Shellac manicures a bit.
This particular manicure features Shellac in Cityscape (light dove grey) and Overtly Onyx (shimmering charcoal) along with some silver small round studs, double-c studs, double-c water transfers and some simple dotting with Cityscape to resemble pearls. A very simple manicure for the week of Thansgiving that was pretty quick to do but still looks pretty cute, I think. 
<p>
By
Recently, in addition to the six new Shellac Fall shades that are being released, CND has also released a duo of limited edition Holiday glitter Shellac shades; Ruby Ritz and Tinsel Toast. Above you see two cured coats of Tinsel Toast, and then again Tinsel Toast covered with a design in Black Pool. The two shades are both gorgeous and contain extremely fine glitter that couldn't be recreated even with the finest of craft glitters, so I feel like it's worth having. Plus it's a lot easier to deal with that applying loose glitter because there are less steps. You also don't have to worry that you missed coating an area with topcoat and risk removing it along with the tacky layer. I also think it looks awesome with other shades of Shellac.