By
Kelsey got some V-Day Shellac yesterday, using Cream Puff, Wildfire, and pink Additives pure pigment powder.
By
Recently, in addition to the six new Shellac Fall shades that are being released, CND has also released a duo of limited edition Holiday glitter Shellac shades; Ruby Ritz and Tinsel Toast. Above you see two cured coats of Tinsel Toast, and then again Tinsel Toast covered with a design in Black Pool. The two shades are both gorgeous and contain extremely fine glitter that couldn't be recreated even with the finest of craft glitters, so I feel like it's worth having. Plus it's a lot easier to deal with that applying loose glitter because there are less steps. You also don't have to worry that you missed coating an area with topcoat and risk removing it along with the tacky layer. I also think it looks awesome with other shades of Shellac. 
By
The Zoya entry into the Winter 2012 arena is basically amazing. I'm pretty much limiting myself to purchasing only polishes that cannot be passed up, since I've been using Shellac so much and all my clients are pretty much doing Shellac at this point. I need to purge at least 50% of my enormous stash as it is, so I really don't need non-essential polishes at this point. Ornate, or at least most of it, qualifies as essential for me. I offer several season-specific shades of China Glaze, OPI and Zoya at the salon, and by far the most used is Zoya which honestly surprised me. I love Zoya and everything, but I assumed people would go for the more recognizable brands, and since Zoya is for the most part only available online and in some salons it's pretty crazy. 
Anyway, I passed up all but one of the new OPI Skyfall polishes, and considering I'm a huge 007 fan, OPI Holiday collection fan, and Adele fan (I may go back and get Skyfall since she sings the theme song), that's a huge deal. I also don't feel as psyched about the promos I've seen for China Glaze's holiday offering, so Zoya was the only must-buy holiday collection for me. Weird. 
Tagged with:
holo
,
foil
,
zoya
,
glitter
,
purple
,
winter
,
holiday
,
red
,
gold
,
silver
,
black
,
nails
,
nail polish
,
green
By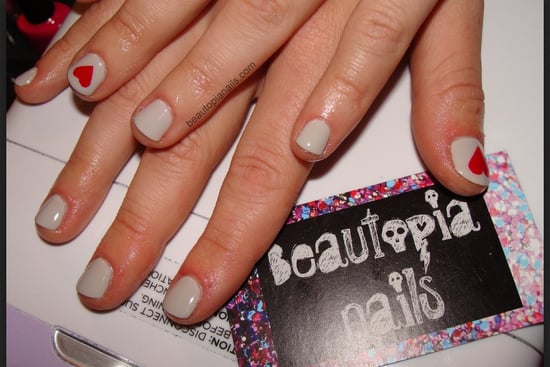 Today at the salon Jenny got Shellac'd with the beautiful pale dove grey Cityscape with some red hearts on a thumb on one hand and her middle finger on the other. It looked adorable and when she gives someone the finger now, they won't know if she loves them or hates them ;P. -Karrie
By
If you haven't heard of The Night Circus by Erin Morgenstern, you should check it out. It's an amazing book that almost defies description. It's a complex story basically about a conflict between two magicians, and as hokey as that description may sound, it's worth reading. The imagery in this book is so spellbinding, and since I read the book a few months ago, I've been wanting to do some nails inspired by it. One of the defining things in the book is that the circus and all it's patrons and performers are decorated or clad in only black, white, and red. So of course the nails are in the same colors. In my head, I wanted this manicure to be grand and romantic and sort of magical, and though it fell short of those far-reaching expectations, no manicure was ever going to be as grand and magical, not to mention as romantic, as the book was. 
For this manicure I used only CND Shellac (Hollywood, Cream Puff and Black Pool, plus some loose glitter), which was a pain in the arse, to be honest. It was easy, but it was time-consuming, what with all the layers and curing between details. But in the end, it will be worth it because I only wear Shellac when I work on clients so I don't ruin my nails, and I wanted this design to last. All the designs are abstract interpretations of portions of or ideas in the book. The juxtaposition of dark and light, and romance play large parts. 
By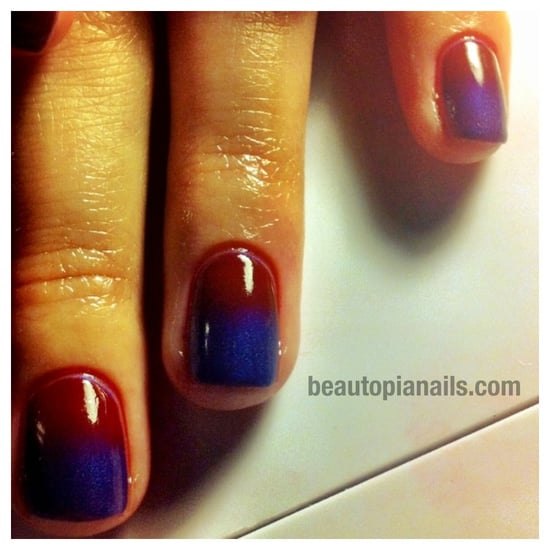 Here's a Shellac manicure I did at the salon today on one of my co-workers. I used CND Shellac in Purple Purple and then using CND Additives pigment Powder in Bright Red I made a gradient starting from the cuticle towards the free-edge. We thought this was an awesome end-of-Summer transition look and since the client in this case is a hair stylist, her Shellac'd nails should last more than the usual 24 hours she gets from a manicure. I loved how the red became almost burgundy over the purple and how the creamy red gradually faded into iridescence.
By
Recently at NYFW, CND did a really cool look they called Flirty Flowers for Rachel Antonoff's runway show. I think it was a real eye-catcher for everyone considering the interesting pattern and the use of bright, bold colors juxtaposed on the small canvas of the nails. I wanted to recreate it, and in fact did start out by using CND Anchor Blue as they did, but I found it was far too dark to get the look in the photos without adding a lot of white to it. I'm probably not using the same technique they did, so maybe they added the Anchor Blue designs while the white was still wet, but either way I ended up using different polishes to acheive this look.
I painted the nails white, added the blue "petals" freehand with a brush, then added the red to the top, using a thin brush to get the red into the angles left behind by the blue.
Products used:
China Glaze White on White
China Glaze Electric Beat
OPI Red Lights Ahead... Where?
Seche Vite Topcoat
By
La Boheme is a VHTF OPI from the 2003 Holiday on Broadway collection. You can find them on E(vil)bay or you can check out your local salons to see if a bottle is hiding amongst their polishes for sale. Sometimes they'll even sell you one that's been used if you feel the need to buy it. I was super lucky a few years ago to find a couple for retail at a salon near my house. I'm glad I bought them both because I have used up the first one almost completely and will have to crack open the other bottle soon. I try to use it very sparingly, even going as far as layering it over similar color or black, but I broke it out of the vault because I was really in the mood to wear it. It's a gorgeous duochrome berry/rust shimmer with an added layer of floating, glistening red shimmer that turns greenish amber in some lights. I strongly suggest you check out your local salons, and some not so local if you travel, for this. Always target salons that look to be older than the polish you're looking for, and keep in mind that they are usually in little strip malls. I have had amazing luck this way. I've found Black Magic Mountain, Tucamcari Boys n Berry, Jasper Jade and more at these so-called "dusties." So get out and look and good luck!
By
Happy 4th of July, everyone!! Here's my Independence Day mani; a festive french with an accent nail of "stars" and stripes. I used China Glaze Snow for the tips and the base of the ring finger. The blue is China Glaze Bermuda Breakaway, and it's applied over the tips of all fingers. On the french fingers, I used China Glaze Phat Santa for the dots, and on the ring fingers i used a sparkly red Art Deco striper polish to do the stripes. I made thin silver lines to separate the "stars" and stripes with China Glaze SIlver Bells. Everything was topped off with a coat of Seche Vite!
By
Tarte has come out with a True Blood themed collection, and it includes a pretty interesting palette. I loved the look of the packaging so I decided to give it a try on my nails. The design is simple to do and it looks pretty cool. It would look really good with another color in place of the red as well, especially a nude shade. I painted my nails with a base of China Glaze Phat Santa, and then using a black striper polish from Art Deco I made two diagonal lines from the cuticle to the corners of the free edge. Then I filled in the empty triangles on the outer portion of the nails with Wet n Wild Black Creme. Then I used China Glaze Millenium to make silver dots for the holes for the laces. I put a smaller black dot in the middle of the silver dots to make them look like little eyelets. With the Art Deco striper I made crisscrossing "laces."